The reality is marketing is IMPOSSIBLE without Content Marketing. No matter what method of marketing tactics we use, we should never leave behind content marketing in the process. Quality content is a MUST in all types of marketing, Regardless of what type of marketing tactics you use, content marketing should be part of your process, not something separate. Quality content is part of all forms of marketing:



Social media marketing: Yes, Content marketing strategy comes first before your social media strategy whether you like or not.
SEO: Truth is search engines reward businesses that publish quality, consistent content. Ask Google and they'll tell you the same thing!
Inbound marketing: Another reality is the fact that Content is key to driving website traffic and leads.
Content strategy: Content strategy is part of most content marketing strategies.
Content marketing is the art of communicating with your customers and prospects without being sounding like your selling. It works best rather than simply talking about your products and services. With content marketing, you establish yourself as a thought leader and an industry expert in your field.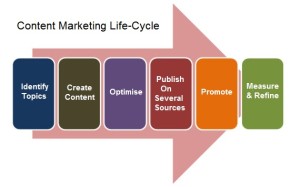 Instead of simply telling people to buy your products or services, you are providing information that benefits your potential customers and above all, you're building your credibility. The essence of this content strategy is the common belief that if we ,as a business, consistently deliver essential information to our target market, they will ultimately reward us with their business and loyalty in the future.

Need advice specific to your organization? Contact our consulting group, led by strategist Shemie Breitenbach, to find out how they can help you meet your content marketing challenges.

BOOK YOUR FREE EXPLORATORY CALL AND STRATEGY SESSION
(2 Free Calls to Help your Business, a $300 Value)